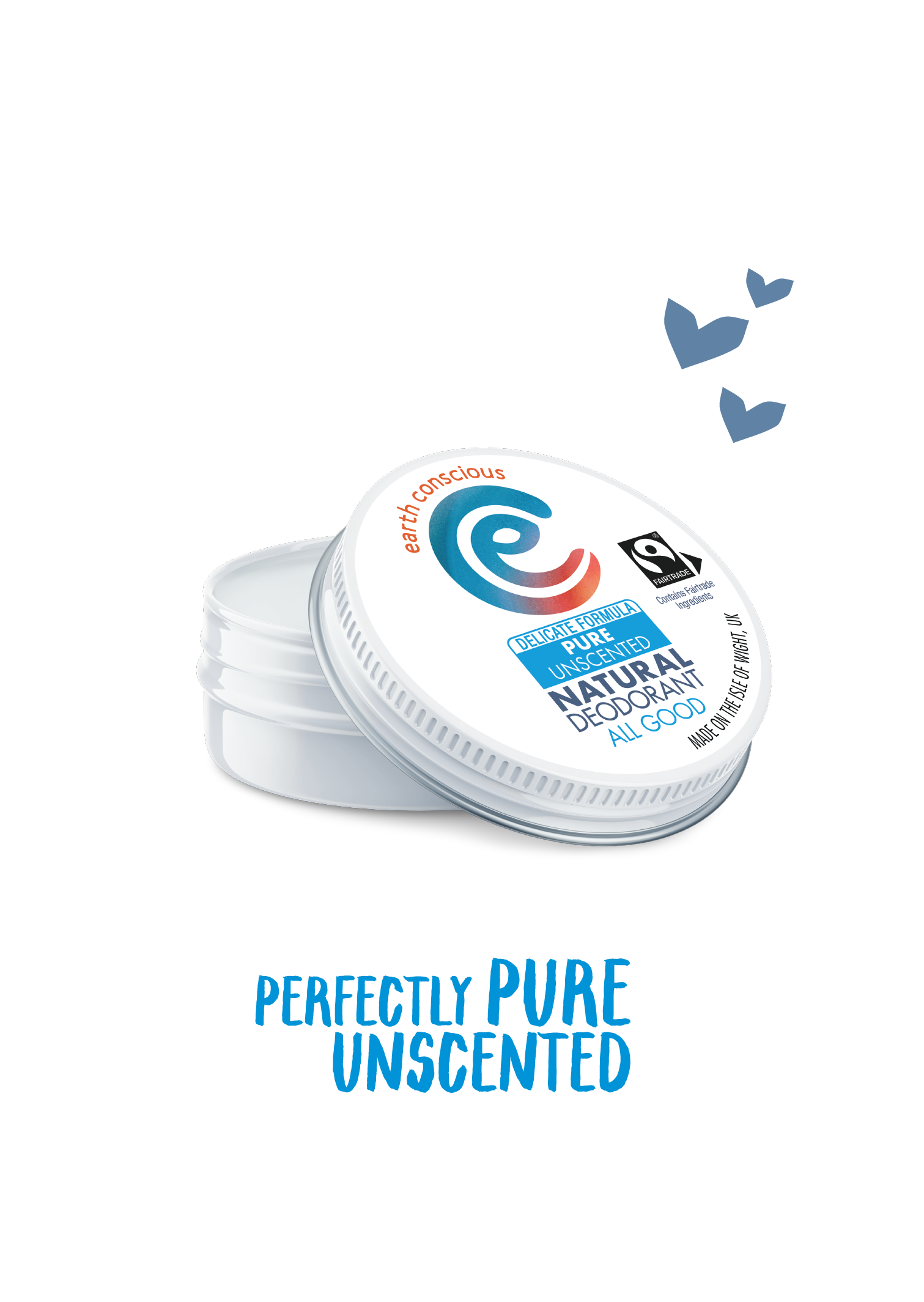 Natural Deodorant for Sensitive Skin
Bicarb-Free Delicate Range of Natural Deodorants.
In our 7 years experience of making the Earth Conscious deodorant, our customers have been successfully using our original formulations. But for those customers who have skin sensitivities we have created an even gentler formulation just for you!
Bicarb-Free and of course with a completely unscented version.
What causes skin sensitivity to Natural Deodorant?
It could be a number of things but Fragrance and/or Sodium Bicarbonate commonly referred to as baking soda or bicarb are possibilities. 
Bicarb is an excellent deodoriser, a natural salt and safe to use. It has been a key ingredient in our original Earth Conscious range of natural deodorants since 2014, hugely effective at working to eliminate the bad smell that is caused by body odour.  Sodium Bicarbonate is fairly alkaline and can subtly alter the pH of your armpit area causing an imbalance. For some people this can be a problem causing a rash or irritation.
Not all skin reactions are due to bicarb.
It could equally be a sensitivity to a fragrance. Starting with an unscented natural deodorant is a very good option. 
Except our Pure Unscented Natural Deodorants, essential oils are used to fragrance our range. These are generally always certified organic and we use very low safe levels.  All of our products are of course safety tested to meet Cosmetic Regulations and we never use synthetic fragrance or simply state parfum on the labels. All of the essential oils and their naturally occurring allergens are listed as required on our labels e.g. Limonene, Linalool, Citral etc. 
Which Natural Deodorant is Best? 
If you are not sure which product to choose then do please get in touch. We are always happy to assist.