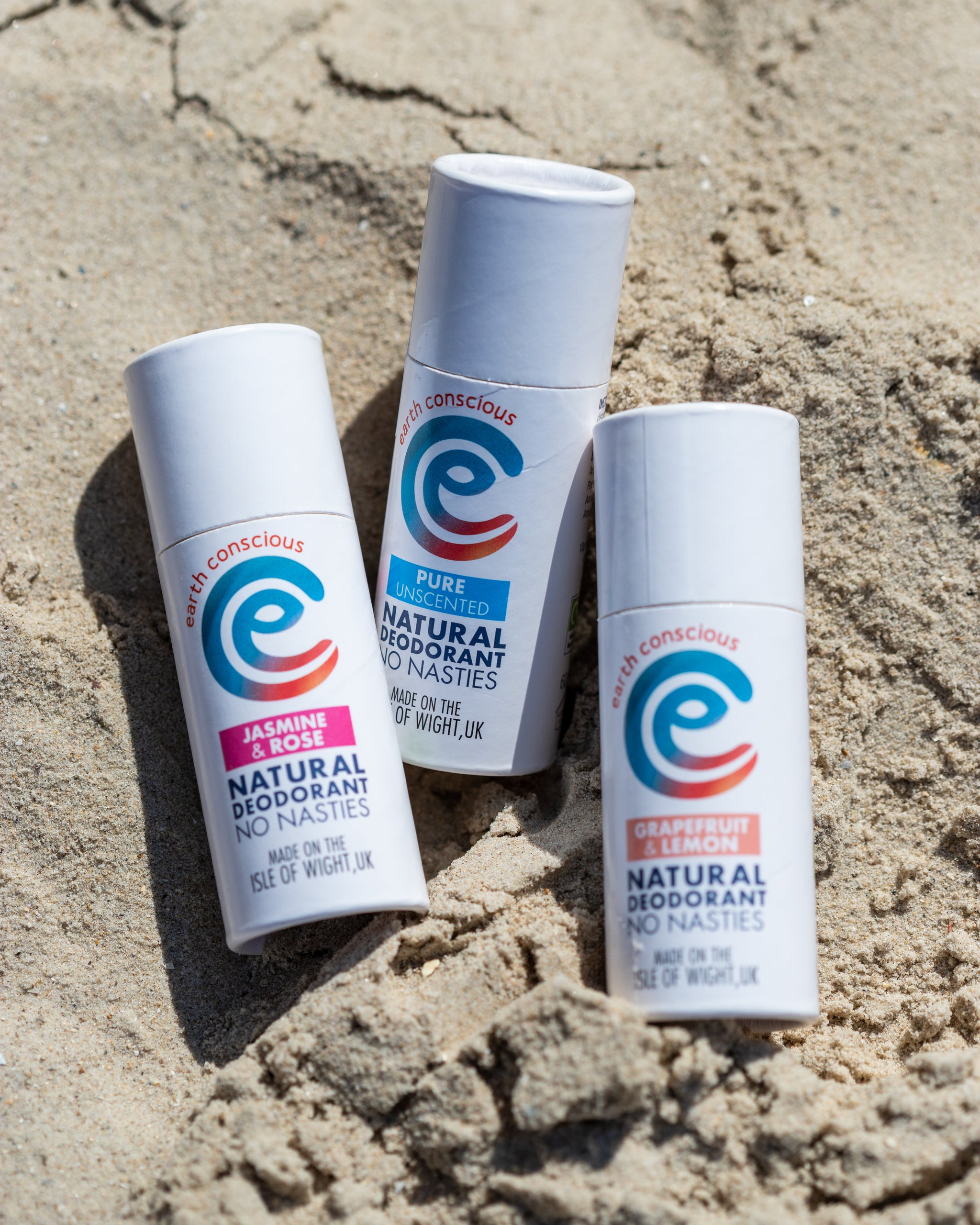 Travel Deodorant: Your Perfect Companion for Fresh Adventures!
There is no contest, when it comes to travel deodorant, the Earth Conscious Natural Deodorant is perfect. Whether you're travelling abroad to warmer climates, camping or taking a staycation we have you covered. 

Compact and Lightweight:
Space is a precious commodity when you're traveling. Traditional deodorants can take up unnecessary room in your luggage or backpack. The Earth Conscious range of deodorants on the other hand, are designed to be compact and lightweight, fitting effortlessly into any bag or pocket. They won't weigh you down, leaving more room for souvenirs and memories.
Can We Travel on an Airplane with Our Earth Conscious Deodorant?
Perfectly sized below 100ml, the deodorant stick, tin or Bare Bar are safe popped in your clear toiletries bag for going through airport security. Great Travel Deodorant, harmless ingredients too!
Not only is the Earth Conscious Natural Deodorant a great practical travel deodorant, it's harmless natural organic ingredients will ensure that not only are you safe to use it, the environment is safe when it's been washed away too. Feel happy that the sea and it's marine life will not be harmed when you take that dip!
Going Camping?
Just throw it in with your camping gear.  The Earth Conscious Natural Deodorant can be conveniently applied whenever you feel the need. Mostly, one application will last throughout the day but if if's particularly warm and you work up a lot of sweat, then its easy enough to just scoop a little more out of the tin and apply as required.
If there are no showers available then you can apply straight onto smelly armpits and it will deodorise for you. Unlike crystal deodorants, there is no need to apply straight from the shower or onto wet armpits.
For just £7, it makes a great travel deodorant and a great every day deodorant too!
Eco Travel Wash Bag
And, if you want to carry all your favourite eco toiletries in one place then what better way than in a wash bag that used to be an Inflatable!