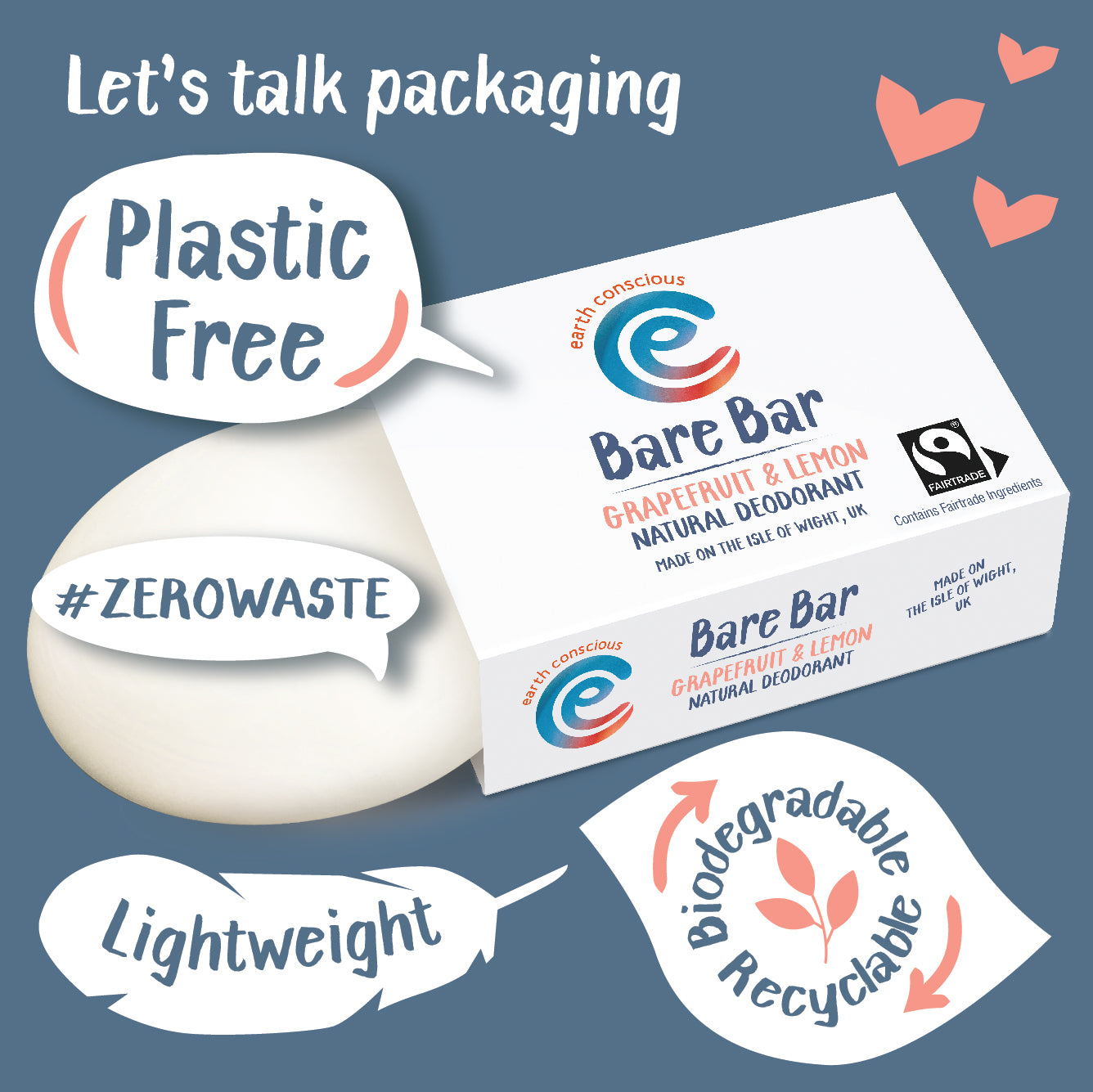 Tips for Going Plastic Free July & Beyond
Plastic will still be around polluting our earth and seas for thousands of years. When it does breakdown it doesn't disappear but turns into tiny particles that make their way up the food chain. 
Tips for Going Plastic Free July and beyond
We all know that we should be using less plastic but, in this world that we live in, going plastic-free isn't always easy.  Remember it isn't about going completely plastic-free, it's about pledging to do what you can. It's not about perfection, it's about making small changes and creating new habits.
Local zero waste, unpackaged shop in your area?
Zero Waste stores are now in many places across the UK - keep a lookout to see if you have one locally. Generally, they keep all the dried staples you might need and often lots of plastic-free toiletries too. These independents are likely to be more readily equipped to continue to be minimal waste than the larger shop options. However, if you want these small independents to stick around, customers need to use them.
Supermarket shopping plastic-free can be difficult
.
Over the last year, "plastic-free aisles" have started to be implemented and there has been more of an awareness of shopping plastic-free but you still have to be very choosy about what you pick up when you are shopping. A list of the items you know you can definitely pick up plastic-free may be the way to go.
Fruit and vegetables are a fairly easy one.
You can choose loose fruit and veg and choose not to bag them. Some supermarkets offer paper bags, reusable produce bags, or simply pop them into your basket as they are. Not everything will be plastic-free and often the options that are will be more expensive than their plastic packaged version. Switching to a fruit and veg box is a good option and you have the benefit of seasonal eating. Seek out local farm shops and greengrocers.
Take your own Containers
Normally this would be hit or miss as to which supermarkets support this initiative but the local zero waste and independent greengrocers are designed for this so if you haven't already it's a great opportunity to try one out. 
Plastic-Free Home baking!
Baking our own bread, cakes, healthier snack bar treats can minimise single-use plastic with both flour and sugar packaged in paper. Bulk buying nuts and raisins will still reduce the single-use plastic - think about all of those single-use wrappers from the individual bars you'll be saving. These ingredients are some of the basics that are easily catered for by the Zero Waste Stores.
Glass bottles or Aluminum cans
.
There are a lot of challenges when it comes to food but tins and bottles are easy swaps. For example, you don't need to buy Ketchup or Olive Oil in a plastic bottle, you could choose a glass replacement. Tinned fruit & veg are also good options if plastic-free fresh is not readily available.
Plastic Free Tea
When it comes to drinks, I once thought tea bags were going to be easy on the plastic-free July challenge.  Tea Bags in a simple cardboard box are often wrapped in a plastic inner and then I discovered the teabag itself actually contains plastic! I've since switched to loose tea for my regular cup of Earl Grey and have been feeling healthier about this choice ever since.
Reusable cups and Water Bottles 
Widely available in a range of colours, sizes, and prices. Plastic Free July is the perfect time to make at least the water bottle switch. 
Lunch on the Run
Another easy one is to switch cling film or plastic food bags for reusable sandwich wraps and snack bags. They last for years and do the job really well. Unlike food boxes, they take up absolutely no space of weight once you've devoured your sandwich! Food boxes are of course the solution for salads and lunches that require cutlery! We also have something that quite frankly looks like a shower cap but works perfectly over a cut watermelon in the summer!
Laundry and House Hold Cleaning
Refillable stations are available at many zero-waste stores. Just pop along with your containers to fill up on your favourite eco-friendly brand.  Look out for the ingredients too as not only will you be avoiding the single-use plastics but hopefully you'll be helping out our seas and waters by stopping the chemical flow of laundry liquids and cleaning products.
Personal Tip: Tried and tested Soapnuts and an Eco Egg, both found to be suitable swaps but don't expect a lot of fragrance if that's something you like. We've also tried a Smol Subscription for washing clothes. A little costly but very convenient. A cheaper option is perhaps the biological powder in a cardboard box.
Those infamous Toilet Rolls
How many teenagers does it take to put a toilet roll tube in the bin? We don't know, its never been tested! Plastic-free toilet rolls are harder to find in the supermarkets but the smaller independents will stock various brands. A few to kick you off are Green Cane, Who Gives a Crap, Suma Eco Leaf. You will also find these readily available from their own websites. There is such a thing as washable toilet cloths too but this is a path I am not willing to take!
Plastic Free Personal Care Products
Menstrual products produce an awful lot of plastic waste and to be honest, I haven't looked back since switching to reusable options. My three daughters (13,13,18) all use reusables and have known nothing else - start as you mean to go on. Our go-to is Wuka Wear. It may feel like a big investment upfront but they should last several years. If pants are not for you, reusable pads or a menstrual cup could be the way to go. One of our stockists, Earth Wise Girls has a great selection to get you started.
Solid Soap Bars
Using Natural Solid Soap bars is an easy switch from handwash bottles and shower gel. However, solid shampoo and conditioner bars are definitely not so easy. I have tried countless brands and unless they contain SLS or a substitute surfactant ingredient they do not work for me. Any of the natural plastic-free brands that work do so because they contain a substitute surfactant that tends to be palm oil derived so if you are looking for palm-oil free as well as plastic-free that may prove more challenging. On the positive, if you spend money in the search for a good shampoo bar and it proves unsuccessful, you can always use it as a body wash!
Natural Deodorant
Of course, our very own Earth Conscious Natural Deodorant is an easy switch to deodorant that is also plastic free. You can choose between our recyclable aluminium tin or our recyclable cardboard tube which can also be popped on the composter if you so desire. 10p from every sale still goes to the Marine Conservation Society here in the UK.
Plastic-Free Shaving
Line up the solid soap bars again! You could make an investment in a razor with a reusable stainless steel handle and I have done so for my husband. BUT, it is a careful slow shave not if you're in a rush! 
Teeth & Toothpaste 
There are a few more plastic-free brands out there nowadays but I can personally recommend both Georganics and Truthpaste.  When it comes to the actual toothbrushes, well initially we switched to bamboo but you know what, we've switched back to electric toothbrushes. The bristles were just too harsh on the gums for me and the kid's dental hygiene had to be prioritised, it went downhill so the electric brushes work better for us.
Gradual Small Changes - don't beat yourself up!
Remember, whilst everyone may be starting with the same desire to reduce plastic consumption not everyone will have the same circumstances. With a family and their priorities to consider and finances playing a big part, it's not always been easy. There are finances and time constraints. These are not excuses they are very real day to day reasons. Buying fruit juice in a tetra pack, for example, may be less than £1, and if you're lucky enough to find a glass bottle you could be paying at least 4 times that much!
Do not put too much pressure on yourself. Make the choices you can make gradually and try to enjoy the process that way they stand a greater chance of becoming regular swaps.  Small choices equate to positive progress. The Plastic Free Challenge enables all of us to think about how much we heavily rely on single-use plastics, which then creates inspiration to take initiative to make changes
Good luck everyone!