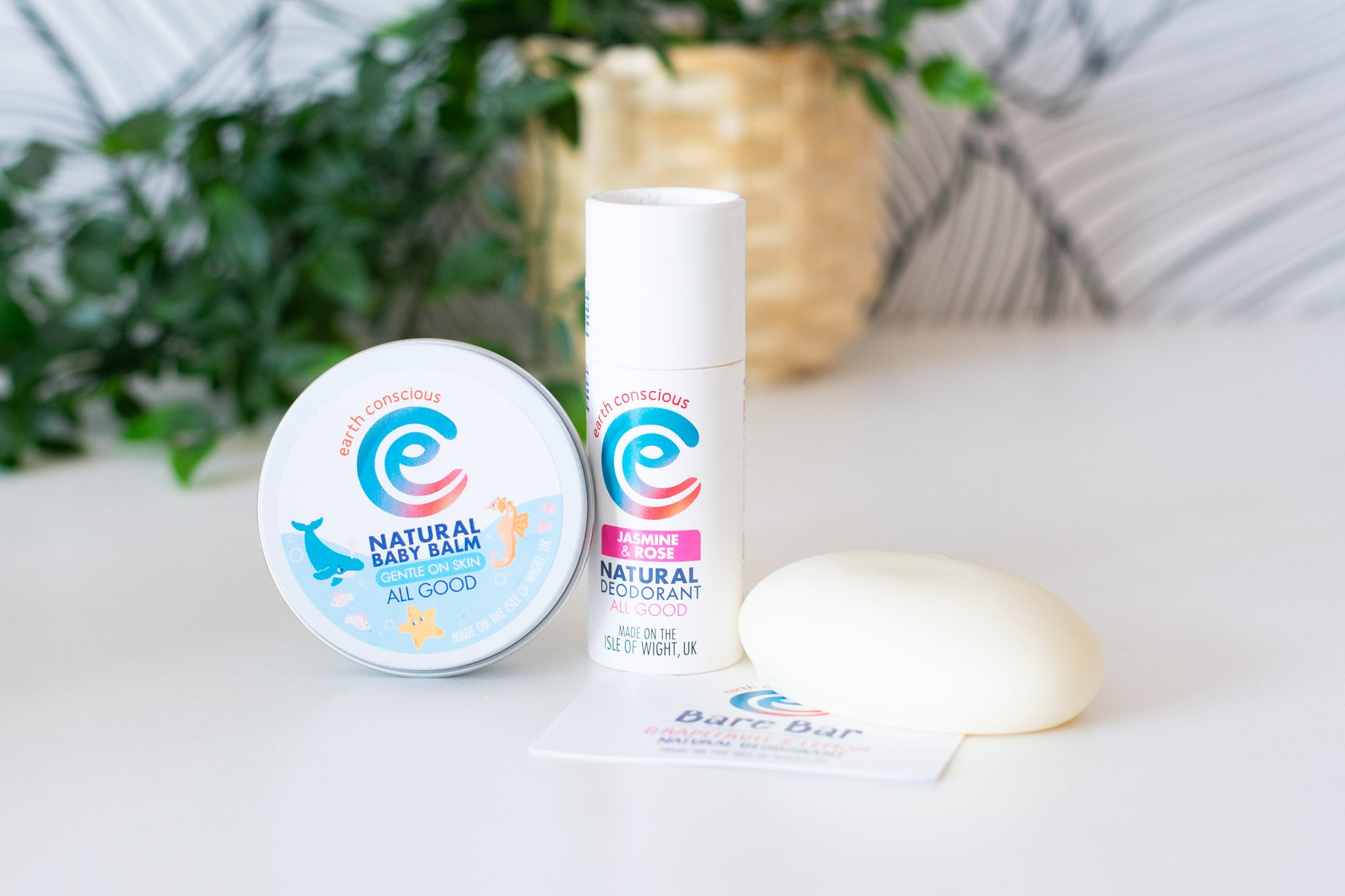 Aluminium Free Deodorant - Anyone ditched the Antiperspirant?
If you're looking to ditch the antiperspirant to avoid products containing aluminium then you may wish to consider an effective Aluminium Free Deodorant. There are plenty of natural alternative options available to keep you smelling fresh. 
Angela, founder of Earth Conscious writes:
As a natural deodorant brand owner, coupled with my confidence of someone who hasn't worn a spray or roll-on of antiperspirant in many years, I can say confidently that switching to a more sustainable, natural aluminium free deodorant is absolutely possible. Years of experience using our natural deodorant means I am generally down to as minimal application as possible. One pea-sized application every 24 hours regardless of whether I've taken a shower or not, does the job. Honestly, I may even forget (or don't bother) to apply which is really not a great advertisement for a deodorant brand owner but this seems par for the course as you move away from those rituals of spraying!
Less is more!
I find it happens less if I'm wearing loose cotton clothing opposed to synthetic fleeces/sportswear. It happens more through exercise and the odd hot day in the UK. But in general it happens far less than it ever did when I was a girl about town in a shirt and jacket choosing the choking spray.
Ditching the antiperspirant and moving to an aluminium free deodorant is possible but we still need to ensure our bodies are clean and fresh to help prevent build up of bacteria and therefore the need to over wash our clothes.
It's not the sweat that smells
It's not the sweat that smells, it's the bacteria on our skin (which will inevitably get on to our clothing) that smells. If we allow our clothes to get smelly (and they will the longer you leave them - think the smell of clothes in a laundry basket after a few days), we will need to wash them more frequently.
How much water is used in a single wash, what about the impact of the detergent or the energy used if we have to wash our clothes more frequently simply because we haven't washed ourselves or used a product that will help minimise bacterial build up? Even washing just in our armpit area would help (there are over 300 types of bacteria in that area alone).
Wearing a deodorant that acts as an antibacterial will help. The natural ingredients have their own antibacterial and antifungal properties working to keep your armpits free from bacteria build up whilst smelling fresh at the same time. 
We asked Wendy Graham, one of our customers, how she'd been getting on since making the switch. Here's what she had to say:
"As someone who loves anything active and works as a personal trainer, finding a natural vegan friendly deodorant that actually worked was super important! Earth Conscious ticks all the boxes and I rave about it to my friends, family and clients! 
Not only were no animals harmed in its production, it's aluminium free, paraban free and carcinogen free; it's easy to forget that the human body's largest organ is the skin, so it really matters what goes on it! All the ingredients here are natural yet still prevent body odour- believe me when I say I've tested it to its full potential! Plus no white marks on any of your clothing.
I also love that it's super eco friendly too! All the packaging is recyclable and biodegradable, plus the best bit is it lasts ages!! My previous Earth Conscious stick lasted well over a year, whereas other brands, I had been replacing every few months, so it's very budget friendly too! 
When I said I've tested it to its full potential I meant it, my day is action-packed; A cycle commute, client sessions, teaching classes and my own training, but my pits still smell like a spearmint (my fave scent!!) When I get home! 10000% recommended!"
 A big thank you to Wendy (find Wendy over on instagram) and remember in your new-found confidence of ditching the antiperspirant , if you do forget and then get a reminder through smell, just grab for your Earth Conscious deodorant which will deodorise immediately until you can next make it to the shower!  
Angela Manton, founder of Earth Conscious.
SHOP here:
Follow us on social media, usual places: instagram, twitter and facebook.