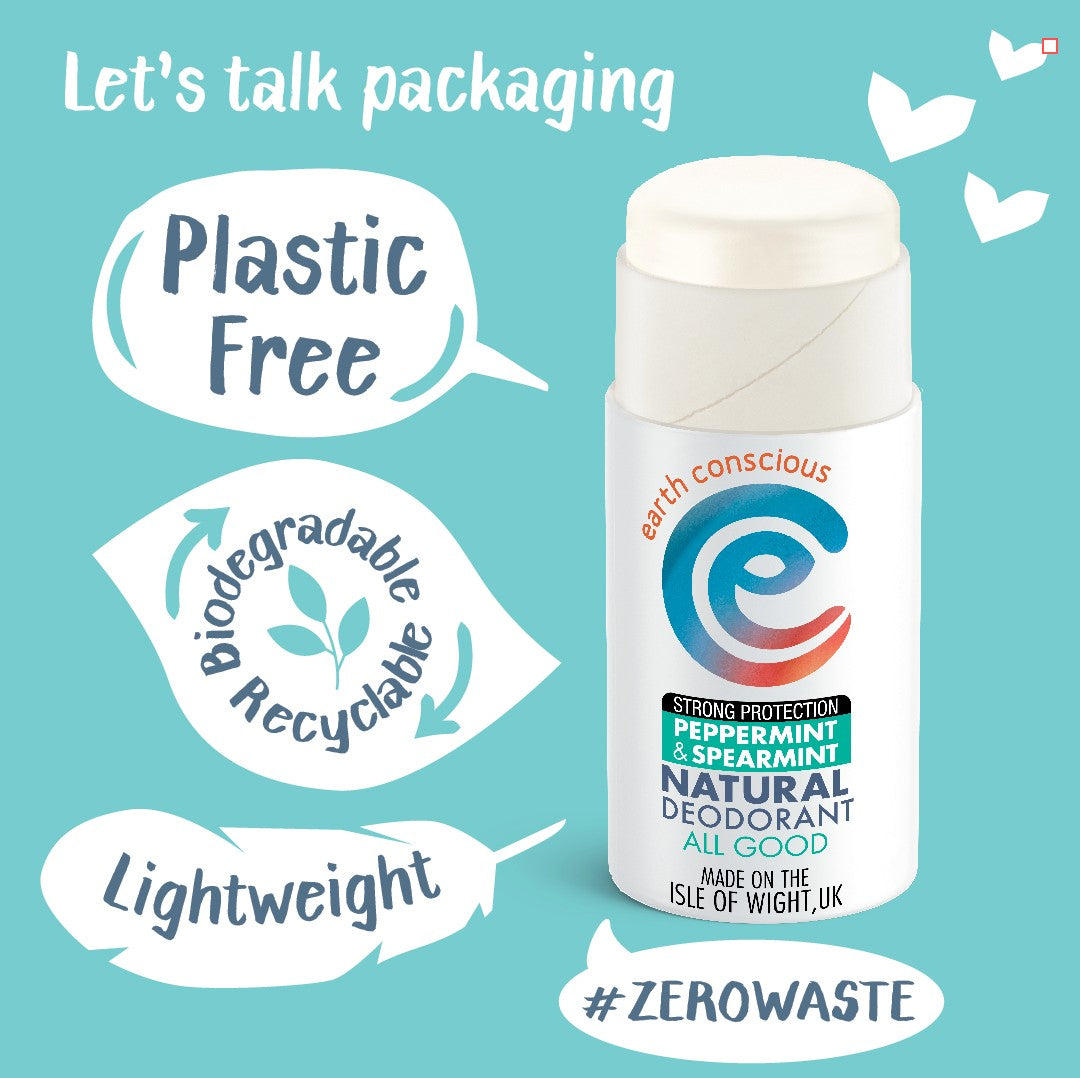 Eco Friendly Natural Deodorant
What makes a product Eco Friendly?
By definition, Eco Friendly means without harm to the environment so when creating the Earth Conscious natural deodorant products and indeed all of our products there are various considerations to make. 
100% Natural Ingredients
The ingredients used in our Earth Conscious deodorant are 100% natural. The ingredients are not harmful to our bodies nor are they are harmful to wildlife, marine life, or the environment at large.
Eco-Friendly Packaging
There is more to being Eco-Friendly than just the product itself. Product packaging is a huge part. Here at Earth Conscious, we do not compromise on our packaging and we do not use plastic.
Why We do not use Glass
For example, we could have considered using glass jars but the lid would also have to be plastic-free which is not a problem, however, we also need to look at the weight of our product. As well as being obviously more fragile, glass is heavier and more difficult to pack so using our tin or cardboard tube means we have a more functional and practical product whilst minimising the transport and packaging footprint.

Why We are Not a Refillable Natural Deodorant
We have also given great consideration to a refillable natural deodorant option but felt unless the case packaging was completely plastic-free or readily recyclable or home compostable it just added to the overall impact by complicating matters. We would need to be certain that a case made from bio-plastics, for example, was definitely readily recyclable kerbside in the UK or that it could be home compostable. Right now we don't believe that to be the case.  
Over engineering design thus creating extra waste through packaging is not something as an Earth Conscious Brand we can get on board with. Our products are small, lightweight and compact. They behave as applicator and refill all-in-one. Nothing to resend out every month because the products are designed to last. In fact just recently we discovered that our Bare Bar Range of Deodorants are likely to last 6 months! Now that's Value for Money too!
The packaging dilemma doesn't stop there.
To continue on with our Earth Conscious eco-friendly ethics which are "to do the best we can with what we have available to us", we do not use plastic postal packaging either. Your deodorant will arrive in Jiffy Green Bags. Larger orders are despatched in cardboard boxes with totally natural eco-friendly filling packaging - not a bubble wrap or polystyrene bean in sight!